There are moments in life that are simply priceless. As a wedding photographer, I feel incredibly lucky to be able to witness and capture some of them for my clients. 
For Jay and Michelle, they started their wedding day getting ready for their tea ceremony at the luxury hotel, Grand Hyatt, in Hong Kong. With a bouquet of flowers in her hand, Michelle wore a qun kua with gold and white detailing sewn onto bright red fabric; on her neck hung a row of golden bangles to signal the bride being welcomed into the family. Afterwards, the couple decided to go for a walk under the archway of trees at the outside area of the hotel, which was a wonderful spot for some photos. Hand in hand, Jay and Michelle enjoyed the soft midday light in each other's loving company before heading to St. Margaret's Church for the wedding ceremony. 
What I admire about St. Margaret's Church as a wedding venue was the beautiful, ambient, warm lighting and the lovely pastel flowers pinned to the edge of each bench. In her long veil and elegant lace white dress, Michelle was accompanied by her father down the aisle to meet a well-dressed Jay, who was waiting before the large altar. Seeing the loving looks between the couple as they exchanged their vows, their family and friends were overcome with happiness for them. 
At Aberdeen Marina Club 深灣遊艇會, the sun gave its warm, golden-hour glow as the couple walked along the docks before the banquet started. The flares of sunlight captured in the photos show the kind of magic that can be felt in the first few moments of becoming newlyweds. It also reflected the joy felt by the bridesmaids and groomsmen who were glad to be there to celebrate their friends' beautiful wedding day. The day ended with great food, drinks, smiles and laughter – all to mark the beginning of a fruitful marriage.
Photography: Patrick Photography / Venue: Grand Hyatt Hong Kong (Tea ceremony) St. Margaret's Church Aberdeen Marina Club/ Bride's Gown: Miss Bride Wedding Shop / Makeup Artist: Candice Makeup / Music: Neo Music Production
+

+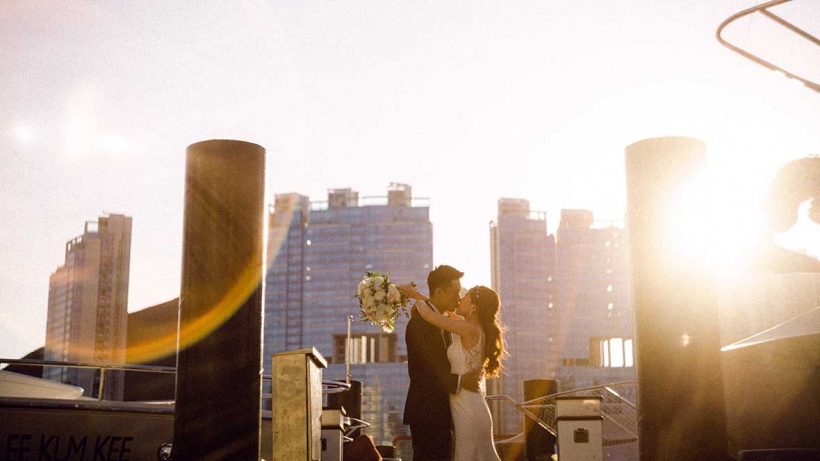 +


+


+


+


+


+


+


+


+


+


+


+


+


+


+


+


+


+


+


+


+


+


+


+


+


+


+


+


+


+


+


+


+


+


+


+


+


+


+


+


+


+


+


+


+


+


+


+


+


+


+


+


+


+


+


+


+


+


+


+


+


+


+


+


+